Online Training Try Scuba
From Taucherpedia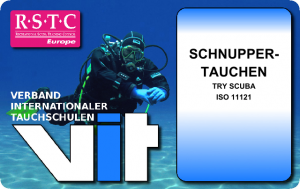 Thank you for choosing VIT for your first scuba dive!
Try Scuba is suitable for you, if you want to try scuba diving completely without any commitment. To participate you need to be at least 8 years old, should be able to swim and feel fit. You only need bathing togs, because your divecenter rents the diving equipment to you. For your safety and that you enjoy your first dive a try scuba only takes place under good conditions. That means that the water needs to be warm and calm and the maximal depth should not be deeper than 5 meters. Your VIT instructor will be only with you during your first dive in order to meet your needs.
A good and profound diver training is very important so you feel safe from the first moment of diving and you can enjoy a relaxed time underwater. This also requires some theoretical knowledge. But do not worry the subjects in Taucherpedia are put together by our most experienced instructors and designed to make them easy to understand so you enjoy learning!
The articles that contain the most important information and safety notices you need to know before your first open water dive are put together on this page.
Please read the section Before your first dive of each article in the listed order carefully.
If there is anything you do not understand, please don't hesitate and ask your VIT instructor.
Next steps in your diving career
If you were fascinated of the feeling to float and move completely free in the water - what we definitively expect - than you can use the modular training system of the VIT to become an autonomous diver:
The first step is the Pool Diver. It contains the theoretical lessons for the Open Water Diver* and the practical training in a pool. Here you will learn the basic excercises and skills.
In the next step - the VIT Basic Diver - you will do two dives in open water and afterwards will get the permission to dive accompanied by an instructor.
In order to become an autonomous diveryou have to do four open water dives furthermore together with your VIT instructor. Here you will consolidate the skills that you learned during the Pool Diver course. Afterwards you may be proud of calling yourself VIT Open Water Diver*!
You can pass the courses stand alone or at once - depending on your time and how you like it most.
You will find offers for scuba diving courses from our VIT-Divecenters always up-to-date at https://www.vit.info/events.