Fins
From Taucherpedia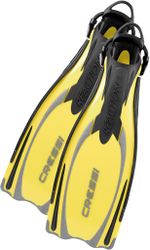 Diving fins increase the propulsion surface of the legs or feet and allow a faster and easier movement in the water.
Before your first dive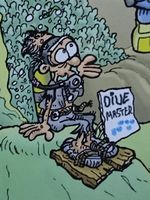 To swim under water without fins and especially with diving equipment is very tiring. Fins enlarge the feet, so to speak, and make it possible to displace a large amount of water with little effort, which gives you a higher propulsion. At first, it will feel like learning to walk again. However, with the help of your VIT instructor, you will learn to use your fins efficiently very quick.
Warning
Avoid walking with fins a shore cause there is a very high risk of tripping over your fin blades. Put on and remove your fins at the latest when you are in hip-deep water. Avoid jumping into the water without fins, because normal swimming is hardly possible with diving equipment.
Basic knowledge for Open Water Diver* (OWD*)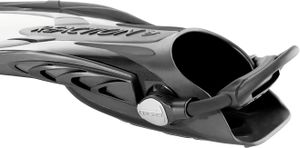 Types
Fins are made of plastic or rubber with different lengths and degrees of hardness. Inexperienced divers should use soft and not to long fins. There are fins with a closed foot part (full foot fins), others with open heel and heel strap, (open heel fins). For diving most commonly used are open heel fins.
Swimming technique
When practicing your swimming technique, make sure that you can displace as much water as possible with the least amount of movement and effort. It works best if you perform a up-down movement with your legs straight out from your hips and from your knee. This way you move forward with little effort and reduce the risk of getting cramps in your legs.
Never use your diving gear without fins in more than waist-deep water. It is almost impossible to swim in diving equipment without fins. Especially with current, even against the slightest current you have no chance to even hold your position. If you dive from a boat, never enter the water without fins or at the end of the dive do not take your fins off unless you can hold on to the ladder.
Maintenance
Like all your diving equipment rinse your fins in fresh water after the dive and do not leave your fins in the sun. Regularly check the fin straps. It is good practice to carry a set of spare fine straps and buckles to avoid missing a dive cause of a broken strap or buckle.